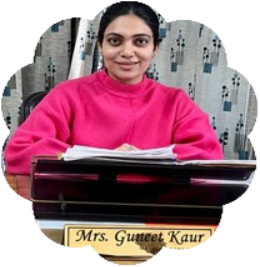 Anju Goel
(Principal, B.J.S. Public School)
I feel more delighted and welcome you all in the Bhai Joga Singh Public School environment With the most illustrious, elite and distinguished them of the meerut city along with the Management, Coordinator, Experienced Faculty staff members and Students and above all the moral support of dear parents who are continuously giving us their strength and Coorperation to grow and spread our area of responsibilities in the Educational field. By virtue of my office in the capacity as a Principal of Bhai Joga Singh Public School, Meerut, I stand before you ever ready for your kind service and gracious presence.
Education has always been an important factor in all around development of a child, especially in today's world. With new ideologies gaining ground at every juncture, we must use our traditional values as the launching pad of our ventures. Education imparted should be such that it inspires our younger generation with noble ideas of truth, love for mankind, secularism and national integration. BJSPS has proudly achieved an enviable position in the field of Education. This has been possible, because of full support and guidance of the management.
For years now and with the lightening speed we have grown more by having new batches of students joining to our institution Wagon year after years. For all and new comers who join BJSPS wagon, I feel proud and delighted to welcome you all once again. Kehte Hein Sitare Aasmaan Pe Hote Hai Sirf, Zamin Pe Nahi,
Meerut Ke Sare Bacche, Aise Sitare Hain Zameen Pe, Jo Aasmaan Mein Nahi
My Best Wishes,